– 今年首次举办数字CES展会,设由15家企业组成的线上首尔馆
– 6日至8日从Webinar<CES 2021 Seoul Trailer>开始介绍参与企业
– 11日至14日通过<LIVE CES 首尔>进行技术趋势展望、企业招商引资、代理市场权限,以及海外演讲者(Plug & Play Saeed Amidi代表、CTA总裁加里·夏皮罗)之间进行会谈
– 26日,在<Review CES 首尔>上综合分析CES 2021并发表成果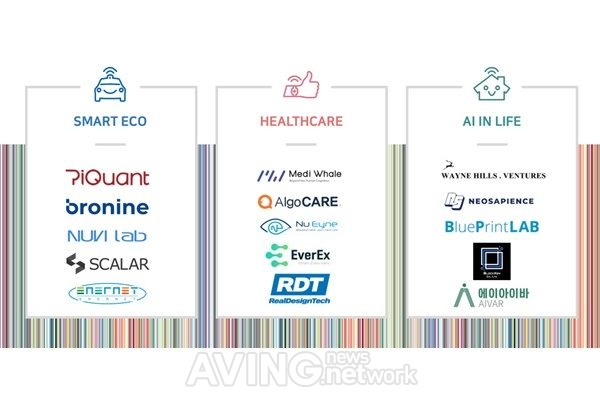 首尔数字财团(代理理事长Lee Wonmok)表示,继去年举办的全球最大规模家电展览会、创新企业的技术竞赛场CES后,第二次设首尔馆,并介绍15家首尔原材料企业的解决方案。
受新冠肺炎影响,此次以全面数字形式举办的CES展会上,首尔市不止计划打造CES线上展览馆,还计划通过自身线上商务计划,将最大限度地使全球相关人士参与首尔馆。
特别是在CES 2021首尔馆的核心项目<Live CES 首尔>中,首尔市代理市长Jeong hyeop Seo将亲自与Plug & Play Saeed Amidi代表和CES主办方CTA总裁加里·夏皮罗围绕"智能首尔的愿景和革新创业生态界"为主题进行对话。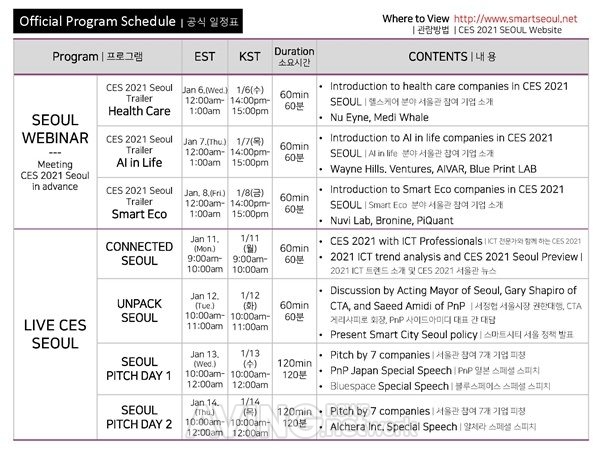 可通过Webinar<CES 2021 Seoul Trailer>提前了解到参与CES 2021首尔馆的15家企业推出的解决方案。Webinar的主题是医疗保健、人工智能、生态环保,将于6日至8日在smartseoul.net上公开。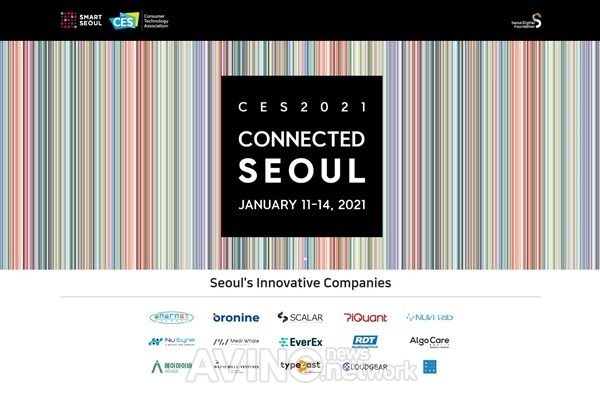 CES 2021首尔馆的相关信息可通过CES官方线上展览页面digital.ces.tech进行确认,另外首尔市也计划将在smartseoul.net上提供相关信息。
首尔市智慧城市政策官(数字财团代理理事长)Won mok Lee表示:"因全球新冠疫情大流行而首次举办线上CES展,这让所有人都感到陌生,但在此情况下,为使创业者能够百分百利用好CES 2021,首尔市将会发挥引领作用","此次CES 2021首尔馆将会成为向国内外宣传智慧首尔发展蓝图和首尔优秀企业的机会。"
Enernet: EG service helps users manage electricity more efficiently with PLC-based smart metering system
Bronine: Volkit charger is a universal charger that can charge various electronics simultaneously
SCALAR: Charger connector for electric vehicles to enable connecting to different types of electricity charging stations
PiQuant: AirQuant is the environment monitoring solution with automatic control of HVAC and air purifier
Nuvi Lab: NUVI Scan analyzes food within 0.5 seconds with AI and big data technology
NuEyne: Cellena is a wearable healthcare device that uses bioelectronic signals to relieve eye fatigue and discomfort
Medi Whale: DrNoon is an AI examination solution that predicts the risk of cardiovascular disease through retinal vascular analysis
EverEx: KneeEx is a smart knee exerciser that helps rehabilitation and treatme4nt of knees by strengthening the muscles around the knees
RealDesignTech: Ultiracer is a safe and dynamic indoor cycling device that ensures the rider's safety with its own iron arm vertical support
AIVAR: MYFIIT measures your body size by using smartphone pictures. It also enables virtual fitting of clothes and can have them delivered to you.
Wayne Hills Ventures: AI Pro SW automatically converts edits texts, matches with keywords, and automatically combines them into video contents
Neospience: Typecast is the AI voice-over service that adds unique feelings to text by using deep learning technology
Loudgear: CloudGear is a handheld device to enable playing PC games like playing console game to give more fun and excitement
AlgoCare: This home appliance solution for personalized nutrition dispenses just the right amount of nutrition tablet to the users by analyzing their health data
Blue Print Lab: V2 is the AR virtual try-on solution with facial recognition technology which analyzes user's face shape, size, and location of facial features
These companies went through a rigorous screening process and proved their unique technology and potential for global expansion. They will be exhibiting their latest and advanced technologies in the largest electronics show in the world for everyone to see.
More detailed information about the CES 2021 Seoul can be found on the CES Seoul website.